BANNERS/ WINDOW DISPLAY FILM/ ROLL-UP BANNERS/ WALL BANNERS
ZAPOL Group produces large format advertising banners for use on building interiors and exteriors. We use different materials for large format printing depending on their intended use, such as: banners (for hanging advertisements), self-adhesive films (for cars, signs and windows), canvas (for art reproductions). ZAPOL Group is able to perform high-resolution solvent printing. We also offer suitable finishing techniques – welding, eyeleting. We create new fastenings according to individual client needs as well. With ZAPOL Group, you'll be visible up close and from afar.
Large format printing is done on a new Roland solvent printer, ensuring excellent quality printing. We are also able to print at various widths and at any length.
We print BANNERS on the following materials:
Frontlit – single-sided printing, PVC-coated polyester fabric. Very high tear strength. May be used as an externally illuminated (printed side) advertising medium, lit by daylight or artificial light. Individual frontlit layers may be welded together, forming a surface with dimensions limited only by the strength of the construction holding the banner or its fastenings.
Backlit – translucent vinyl material. Designed to be "backlit", but keeps the same visual properties as frontlit signs during the day. With the right design, you can achieve a day/night effect – that is, the image that is visible during the day is given additional elements at night when backlit. Backlit banners may be joined to cover larger areas by using special welding that is invisible when illuminated.
Blockout – material designed for interior and exterior application where the image is double-sided and does not allow light to penetrate. It may also be used for darkening hotel rooms or offices.
Mesh (mesh banner) – advertising medium made from mesh material which allows air to pass through, making the banner wind-resistant thanks to the elimination of a sail effect. Particularly recommended for mounting between posts, on building elevations or scaffolding. The banner has reinforced edges and metal eyelets mounted every 50 cm around the perimeter. Available in a matte version with a grammage of 260 g/m2.
Most popular FASTENINGS: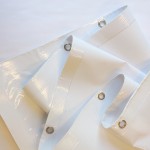 Self-adhesive FILMS:
Monomeric film – suitable for short- and medium-term (2-3 years) exterior application, on flat, unbroken surfaces, e.g. without deep recesses where the film must deform as it adapts to a hard, uneven base.
Polymer film – suitable for long-term (5 years) exterior application, on flat surfaces with slight breakages, e.g. where the film must deform slightly to adapt to an uneven base.
Cast film – suitable for extremely long-term – 5 or more years – exterior application. For uneven surfaces with clear breakages where the film must deform to adapt to an uneven base.
Window FILMS:
One way vision films – special, perforated PVC film, white, glossy with a black base, suitable for application on flat, transparent surfaces such as glass. The image printed on the film is visible, while the perforation allows light to freely enter. The proportion of printable area to the total area is 50%. Suitable for short- and medium-term exterior advertising on vehicle windows, shop display windows as well as other transparent advertising media. Due to the possibility of dust and moisture collecting in the film perforation, lamination of the film is recommended. The film can only be applied "dry".
PAPER:
Blueback – paper used for printing billboards. The azure-coloured back layer prevents the glued-on advertisement layers from being see-through.
Whiteback – paper designed for both underlit and toplit interior displays, excellent for decorating any retail or exhibition area.
OTHER:
Canvas – gloss or matte canvas for single-sided solvent printing, with a special coating ensuring exceptional colour and resolution of the printed image, with high water resistance.
DECORATIVE FINISHES:
To enliven your print, the image can be covered with a clear varnish or laminate. This additional layer protects the image from being rubbed off during intensive use, e.g. when the banner is folded and unfolded numerous times at fairs, or when the film is exposed to mechanical wiping, for example in a car wash in the case of car advertisements.
We also produce LARGE FORMAT MAPS, ROLL-UP BANNERS and WALL BANNERS, as well as other types of hanging or standing media for interior advertising.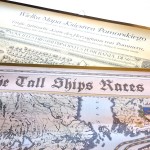 Tell us what you need – discuss the conditions of your order:
Phone: +48 91 435 19 00
e-mail: biuro@zapol.com.pl
DOWNLOAD LIKELY TO PRINT